ABOUT FREEDOM BARKWAY DOG PARK
Looking for a great dog park in the Old Fourth Ward Neighborhood? You've come to the right place! We are a friendly group of people and their dogs, who enjoy hanging out with our dogs, chatting with our neighbors and letting our dogs run and play off-leash. Take a look at our park etiquette. These rules help make the park safe and fun for all.
Two+ acre park located in the Old Fourth Ward neighborhood, less than one mile from downtown, Atlanta.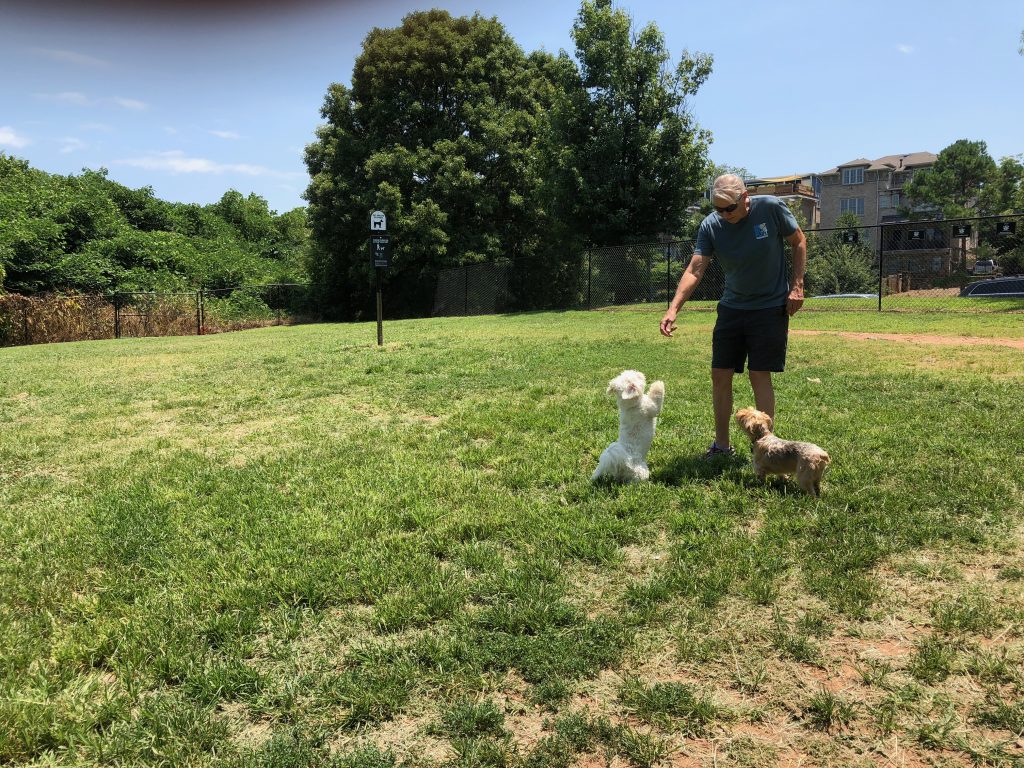 Small Dog Park, (under 30 pounds)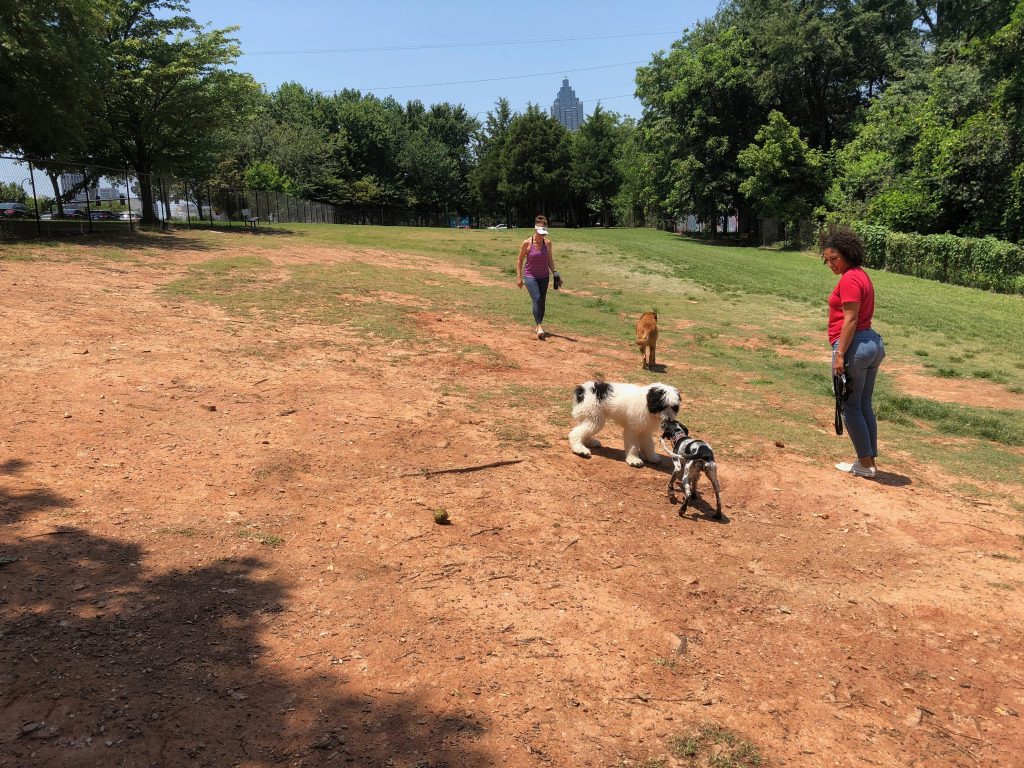 Learn More About Freedom Barkway Dog Park
History
The Freedom Parkway Dog Park is not your ordinary city park. Not at all. The Old Fourth Ward Freedom Barkway Corporation (OFWFBC) was born from the needs and desires of the four Old Fourth Ward neighborhood associations. The dog owning residents of the Old Fourth Ward wanted to be able to walk their dogs to a place where the dogs could get proper exercise and play freely and safely with other dogs while not being on a leash.
It was a fortuitous circumstance that there just happened to be a two-acre green space, located right in the intersection of all four neighborhood associations, in the heart of the Old Fourth Ward, owned by the Georgia Department of Transportation, who had taken, but not needed this land for the Carter Presidental Library Road. The City of Atlanta held a 99- year lease on this land. The GDOT, the City of Atlanta along with the Atlanta Urban Design Commission approved the formation of a 501 (c) 3 non-profit organization to run what is now Freedom Barkway Dog Park.
The green-space that makes up The Old Fourth Ward Freedom Barkway Corporation (OFWFBC) is now a part of the Atlanta Public Parks network and operates under their guidelines for Off-leash dog parks. The board of the OFWFBC consisting of a group of individuals and businesses from the four neighborhood associations that the dog park serves supervises the operation of the park.
Our board and neighborhood volunteers ensure that the Freedom Barkway Dog Park is a fun and safe environment for our dogs and their people, that the park is being well maintained and that it remains consistent with the vision of the OFWFBC and the City of Atlanta.
Board Members
Sylvia Romeijn, President
Bill Voyles, CFO
Shannon Makaila, Secretary
Douglas Carleton, COO
Lindsey Burns, CMO
Board Meetings
Monthly Board Meetings
Everyone is welcomed
When:
2nd Tuesday of each month
7:00 – 8:00 pm
Location:
Condesa Coffee
480 John Wesley Dobbs Ave
Atlanta, Ga 30312
Freedom Barkway Park Rules
Only dogs under 30 pounds are allowed in the small dog park area.
For safety reasons, dogs under 30 pounds should not enter the large dog park area.
Children under age eight are not to enter the fenced dog park areas.
Dogs must be spayed or neutered and not in heat
All dogs must be currently licensed & healthy with all vaccinationsAny dog aggressive towards dogs or people must be immediately leashed and removed from the park.
Owners/handlers must stop their dogs from digging and immediately fill any holes.
No drones, flying devices, bicycles, rollerblades, skateboards, jogging, strollers, or scooters allowed.
Owners/handlers stay off cell phone so that you can keep your dog in site and under control at all times.
Owners/handlers must immediately clean up after their dogs and dispose of waste.
Park gates must be closed immediately after entering or exiting the park.
Liability
Dog Owners waive liability to Freedom Barkwayfor any injury or damage caused by their dog(s). Owners are solely liable for injuries or damages caused by their dog(s).